~ Ireland's Second Longest River ~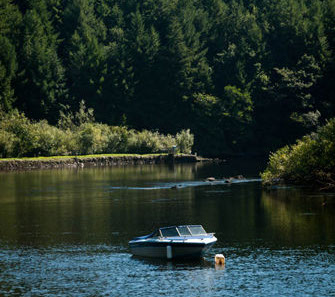 Cruising the Barrow by boat
Cruising the River Barrow is a unique experience due to its unspoilt and uncrowded waters. The Barrow is navigable for 65 kilometres from Athy, Co. Kildare to St. Mullins, Co. Carlow. South of St. Mullins, before the river enters the sea, it is tidal and dangerous for navigation.
An advantage of the Barrow to other waterways in Ireland is that there are no long queues passing through locks and no problems getting space at quaysides. A journey along the gentle River Barrow takes the traveller to a tranquil past age where bird watching, canoeing, angling and boating can all be enjoyed at ease. The speed limit on river sections is 11km/h and is 6km/h on lateral canals. Waterways Ireland presently controls the Barrow Navigation and regulates boat traffic on the river system.
Waterside towns offer full services to boating visitors. Visitors can relax on board and watch the banks drift lazily by, escaping from the hectic society we now live in.
There are many local companies offering boat rental services. Most of the boats are barges which have a full range of services on board. There are different packages to choose from including day trips to much longer adventures on the river.
A boat moored at St. Mullins, Co. Carlow
© 2015, all rights reserved - www.riverbarrow.net - contact admin
And they are pains, boy oh boy
replica watches uk
are the perfect switch for almost any product. Of course there a really low percentage of companies that sell
fake hublot
products and they don't do a very good job at replicating that new Gucci purse or that mink fur coat you always wanted. But for the most part when you see a replica store on or offline you can be sure that it will be either an exact copy and or almost exact copy of the original. A really popular product for these stores to sell are
breitling replica sale
. Breitling Watches can get pretty darn expensive, cant they? Anywhere from
tag heuer replica uk
on up is pretty drastic. And what if you just happen to buy that brand new Breitling watch, and you have an accident of some sort. Maybe you accidentally break the face on the
rolex replica
or your hand gets stuck on the car door of your Ferrari, then what? How much would
rolex replica uk
cost to get it fixed.