~ Ireland's Second Longest River ~
The River Barrow is situated in the South East of Ireland. It is the second longest river in Ireland after the River Shannon. Part of The Three Sisters; the other two being the River Suir and the River Nore, the Barrow is the longest and most prominent of this trio. The river runs for 192 kilometers, with 75 kilometres of this waterway navigable by boat. There are 23 Victorian locks situated on the river and the catchment area of the river covers an area of approximately 2983 square kilometers.
The River Barrow has its source in an area of bog near the Barna Mountain in the Slieve Bloom range, Co. Laois. Water from several points in the heathered covered bog form the beginnings of the Barrow. It gradually flows in a north easterly direction through mountainous forested land crossing over the Slieve Bloom Way where it meets its first tributary, the Glenlahan River just upstream of Tinnahinch Bridge, Co. Laois. It continues through agricultural land until it turns in a south easterly direction at Ballyclare Brg.
Downstream of Mountmellick, which it by-passes, it is joined by two other tributaries, the Owenass that flows through Mountmellick and the Triogue that flows through Portlaoise. Onward it flows towards the sea this time in a north easterly direction towards the town of Portarlington. This town is the first major centre of population centre that it flows through. From Portarlington the Barrow flows in an easterly direction toward the town of Monasterevin where its receiving waters are swollen by the Fighile or Black River. Fighile or Black River is a combination of the following rivers - the Philipstown River which flows quite close to Dangan, Co. Offaly and joins the Fighile at Clonbulloge, Co. Offaly.
From there the Fighile or Black River flows south towards Monasterevin and is joined on the way by the Slate River which flows through Rathanagan, Co. Kildare, and by the Cushina which does not have any major population centre in its catchment. Before the Barrow leaves Monasterevin it has the distinction of the Grand Canal passing over it via an Aquaduct.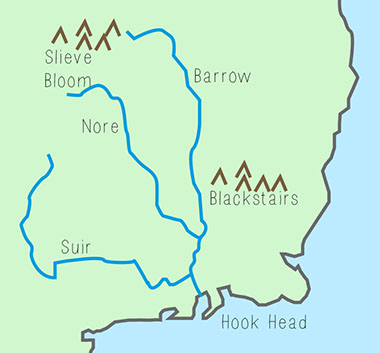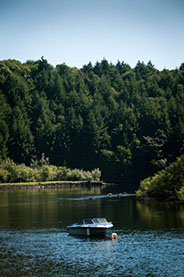 Country: Ireland
Counties: Laois, Kildare, Kilkenny, Carlow, Wexford, Waterford
Part of Tributaries: Three Sisters - River Nore, River Suir
Source: Glenbarrow, Sliabh Bloom Mountains, Co. Laois
Elevation: 350 m (1,148ft)
Mouth: Celtic Sea, Waterford Harbour,
Length: 192 km (119 mi)
Number of locks: 32
Lock dimensions: 18.5 x 3.9 m
Max. depth: 0.80 m
Max. headroom: 2.40m
FACTS ABOUT THE RIVER BARROW
The River reaches the sea at Waterford Harbour and flows into the Celtic Sea. This is the area of the Atlantic Ocean off the south coast of Ireland.
© 2015, all rights reserved - www.riverbarrow.net - contact admin